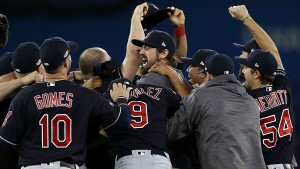 The Toronto Blue Jays exit the playoffs tipping their hats to the Cleveland Indians.
Ravaged by injuries to their starting rotation, the Indians still managed to shut down the free-swinging Blue Jays, tripping up Toronto for the second season one step short of the World Series.
Unheralded rookie Ryan Merritt, in only his second major league start, gave Cleveland the early pitching it needed Wednesday and the Indians bullpen did the rest, dispatching the Jays with a 3-0 victory in Game 5 of the American League Championship Series.
Carlos Santana and Coco Crisp homered for Cleveland, which won the series 4-1.
"It was a battle," said Toronto manager John Gibbons. "It was a battle all series. And they shut us down. And now they move on."
Wednesday's game was like all the other Cleveland wins. The Indians pitching was slightly better, the Cleveland hitting came at the right times and the defence was rock-solid. The Jays managed zero, one, two, five and zero runs against the Indians, who never trailed in Games 1, 2, 3 and 5.
"I know that I'm capable of doing a lot more," said Jays slugger Jose Bautista. "They pitched great. It was tough. They seemed to make the right pitches at the right time and got us out and they never let us string base hits together and when we had men in scoring position they seemed to turn it up a notch and go to another level of execution. My hat's off to them."
"To get us out you have to pitch well. You have to and they did," added catcher Russell Martin.
The Jays left 31 men on base and hit 3-for-25 with men in scoring position. The Indians weren't much better, stranding 20 while hitting 3-for-21 with runners in scoring position.
Toronto hit .201 (32-for-159) in the series. Amazingly the Indians hit .168 (25-for-149) and still won — helped by six homers to Toronto's two.
(Canadian Press)