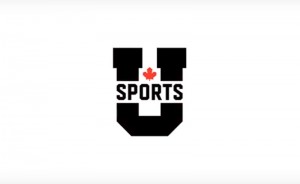 The governing body of Canadian university sport is rebranding as U Sports.
The new name replaces Canadian Interuniversity Sport (CIS), itself the successor to the Canadian Interuniversity Athletic Union (CIAU).
"This is a landmark day for us. Effective today, we are U Sports," CEO Graham Brown said in a statement Thursday. "This is an important step towards a total transformation of our organization which started almost a year ago.
"Although the mission and the passion remain the same, the new brand will shine the spotlight on our dedicated student-athletes at our 56 universities across the country. Today's announcement also aims to create a massive change in the way university sports are consumed in a fast-changing digital era."
The rebrand includes a new logo "inspired by the bold, angular letter forms found on university athletics logos, varsity jackets and jerseys."
CIAU Central was the first name of Canada's university sport's governing body in 1906. The Canadian Interuniversity Athletic Union name was established in 1961. In June 2001, the membership of the CIAU voted to change the name and logo of the organization to Canadian Interuniversity Sport (CIS).
(The Canadian Press)