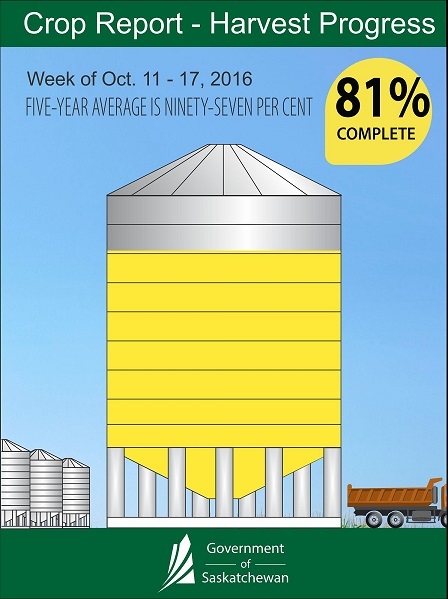 Wet and cool weather continues to delay the 2017 Saskatchewan harvest.
81 per-cent of the crop is in the bin, little changed from last week and well behind the five year average of 97 per-cent.
Provincial crops analyst Daphne Cruise says combining has been mostly stalled for almost three weeks.
A few fields were harvested last weekend.
Harvest ranges from 90 per-cent in the southeast to 73 per-cent in west central Saskatchewan.
Many areas has rain again this past week, with Yorkton getting 35 millimeters, Outlook 22 millimeters and Meadow Lake 35 centimeters of snow.
She says some farmers need the ground to freeze before combines can get back in the field.
Cruise says there are predictions some crop will be left out over the winter.
An estimated seven million acres is still to be combined in Saskatchewan.
Bleaching and sprouting continue to cause grade reduction.