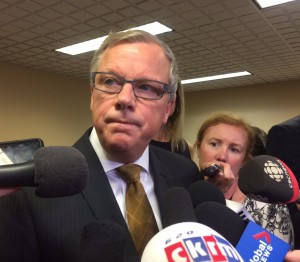 Premier Brad Wall introduced a motion to oppose the nation-wide carbon tax on Monday in the legislature.Shortly after the motion was announced, the NDP came out to say it opposes a tax being forced on the province.
"We're equally disappointed with this premier's actions on this front, that has left us in this position to have something imposed upon us because of his lack of action and leadership on climate change," said Trent Wotherspoon, interim leader for the NDP.
Wall argues the government has worked hard to fight climate change through its carbon capture facility in Estevan, SK.
"While other jurisdictions were simply talking about a price on carbon, we were actually investing in a technological solution," said Wall.
Wall says if the tax is imposed on Saskatchewan, its carbon-intense industries like the agriculture, mining, and oil and gas sectors will suffer.