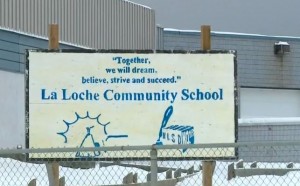 A sentencing hearing is to be held next year for a teen who admitted in court today to killing four people in a mass shooting in northern Saskatchewan.
Provincial court Judge Janet McIvor has set aside two weeks in May and June for a hearing in La Loche to determine if the killer should be sentenced as a youth or an adult.
The judge called the shooting serious and tragic, and said it's important the hearing be held in the community where it happened.
The 18-year-old, who can't be named, sat quietly in Meadow Lake court as his lawyer entered guilty pleas to first-degree murder in the deaths of two teachers at a school on January 22nd.
He pleaded guilty to second-degree murder in the deaths of two teenage brothers at a nearby house.
He also pleaded guilty to attempted murder for wounding seven others at the school.
He was 17 at the time of the shooting.
No agreed facts about what happened including a motive were submitted to the court.
Mounties said at the time that they responded to the school after receiving panicked calls from staff and students.
Police later found the boys aged 13 and 17 in the home.
(The Canadian Press)