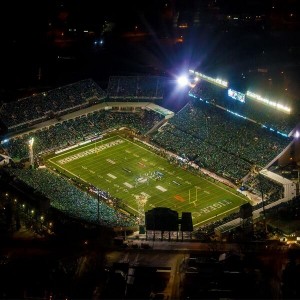 "Its not about the bricks and mortar, it's about the experience. It's a place where people come together to cheer on their team."  That is what former Rider great Gene Makowsky is saying about his long-time home as Mosaic Stadium prepares to host its last ever CFL game on Saturday night when the Riders play the BC Lions.
Makowsky says he has several special memories, but the one that holds the most significance is the day after the 2007 Grey Cup win in Toronto when the team flew home.
"It was a frigid Monday afternoon, colder than usual at that time of year," Makowsky remembered. "We didn't know how many people would be there, but the one side of the stadium was packed with people who had come to celebrate with us. It was hard to believe."
Dan Farthing played many games at Mosaic Stadium, but some of those games were as a Saskatoon high school football player and a member of the University of Saskatchewan Huskies. He says it was always special to play at Mosaic Stadium growing up and it was moreso playing as a member of the Riders.
One of the greatest Riders to ever wear the jersey says he expects to be emotional like many others as he leaves the stadium Saturday.
George Reed doesn't know what to expect, but he says the time has come for a new stadium.
"It's long overdue," Reed says. "It is still pretty difficult for some to get in and out. I tell people we needed a new stadium when I played and that was a long time ago."
Saskatchewan country singer Jess Moskaluke will perform at halftime, with fans reminded to stay in their seats for a special 25 minute ceremony when the game is over.
If you can't be there, we will have it for you on 620 CKRM.