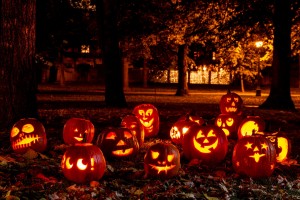 It's that time of year again; ghosts and ghouls will be going door-to-door for sweet treats on Monday — and in the spirit is CAA Saskatchewan who has released some Halloween safety tips for trick-or-treaters and motorists.
Parents and Guardians:
Costumes are always exciting and fun to wear, but it's recommended that parents help choose costumes that are bright at night and don't obstruct children's vision and hearing.
Children should walk in groups or be accompanied by an older teen or adult.
Consider having children trick or treat in the areas they commonly walk in, such as their route to school and within their school's catchment areas.
Teach your children how to safely cross streets, by looking both ways and crossing only at crosswalks and intersections.
Ensure drivers can see your children on Halloween night by using reflective tape on their costumes and giving them a flashlight to carry.
Try to use makeup instead of a mask to ensure your children have an unobstructed view of their surroundings and oncoming traffic. If a mask is a part of your child's costume, ensure that it's properly fitted and allows them to see easily.
Pedestrians should never use their mobile phones for gaming or texting while walking. Keep your head up and the volume low, paying attention to where you are walking and looking at traffic.
If you are driving and have to pull over to drop off or pick up your children at their school or at homes within the school zone, make sure you pull over into a safe zone and turn on your hazard lights. Turn your vehicle's head lights on and communicate with other drivers by using your turn signals.
Make eye contact with other drivers who may be transporting, dropping off or picking up large numbers of children.
When backing out of parking spaces in the school lot, be aware that there may be small children out of your view who are not normally there on other evenings.
Motorists:
Please slow down to at least 10 km below the speed limit when driving through school zones and residential areas on Halloween night. Costumed trick-or-treaters will be crossing streets and roads and may not be attentive to cars and traffic.
Accustomed to CAA School Safety Patrollers or adults to control the flow of vehicular traffic before and after school, children may not look both ways on their own or wait to cross the school cross walk during the day on October 31st.
Anticipate the need to yield or stop quickly to avoid collisions.
Many children wear costumes that limit their vision on Halloween. Anticipate that they may not easily see your moving vehicle, or hear it.
Be aware of jaywalking pedestrians on Halloween as children often switch sides of the street to trick or treat.
Watch for children darting between parked cars.
On Halloween night, large groups of pedestrians often travel together. In their distraction, one of these pedestrians could inadvertently enter the roadway without notice, especially if sidewalks are narrow or not present.
According to Transport Canada, 20% of fatally injured pedestrians under the age of 16 ran out into the street.
Some children are driven through their communities to trick-or-treat, rather than travelling by foot. Be mindful of drivers who may pull over repeatedly to let children in and out of vehicles.
When pulling out to go around a vehicle pulled to the side of the road in a school zone, always assume that a child could open or exit from a door on the driver's side.
Some schools may be in use on Halloween night. Be aware that school zones and school parking lots could have an increase in vehicular traffic.
Avoid driving during peak trick-or-treating hours on Halloween night.
If possible, choose an alternate time to drive and run errands.
Avoid driving through school zones and subdivisions after 6 p.m. on Halloween night, as this is when most trick-or-treating occurs.