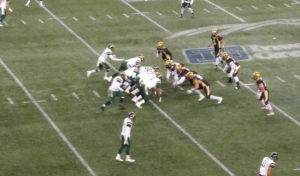 The University of Regina Rams defeated the Manitoba Bisons by a lopsided 55-21 score on Saturday night, securing a first-place finish in the Canada West standings for the first time in program history.
The win completes a worst-to-first turnaround for the Rams, who went through a winless season in 2015 but went 6-2 this year under the guidance of first-year head coach Steve Bryce. They'll now match up with the UBC Thunderbirds (3-5) next weekend in the Canada West semifinals, a game that will kick off on Saturday afternoon (3:30) at Mosaic Stadium and will mark the first time the two teams have ever met in the postseason.
Noah Picton capped off his sensational regular season with 447 passing yards in the win. That gives him 3174 for the season as he breaks the U Sports single-season record of 3162, which was set last year by Calgary's Andrew Buckley. Besides the 447 yards, Picton threw four touchdowns with three of them going to running back Atlee Simon who also ran one in.