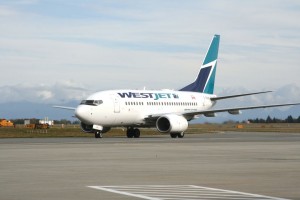 WestJet says it has just completed the second-highest quarterly profit in its history, despite the economic downturn in its home province.
The Calgary-based airline  originally a regional discount carrier that has grown to be one of Canada's largest airlines says it had $116 million of net income or 97 cents per share in the three months ended Sept. 30.
That's a WestJet record profit for a third quarter, which is often the busiest time of year for Canada's airlines.
In the third quarter of 2015, WestJet's profit was $101.8 million or 82 cents per share.
Revenue was up 7.6 per cent to $1.12 billion from $1.05 billion and revenue passenger-miles, an industry measure of passenger traffic, was up 13.6 per cent to 6.4 billion.
(The Canadian Press)