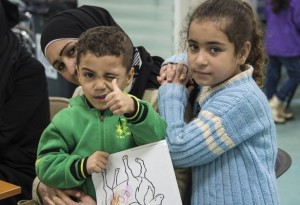 Premier Brad Wall welcomed  Syrian refugees who have settled throughout the province on Thursday in the Legislature, and offered thanks to all settlement organizations, groups and volunteers who have assisted these families in making Saskatchewan their new home.
"The bedrock of Saskatchewan can be found in our provincial motto, 'From Many Peoples Strength', which recognizes that diversity of background, experience and culture only makes us stronger," Wall said. "Today, more than ever, we see the truth of this as we continue to extend the warmest of welcomes to these newcomers who are now our neighbours and friends."
It has been approximately one year since Saskatchewan welcomed the first Syrian refugees.
To date, the province has welcomed 1,236 Syrian refugees as part of the federal government's initiative to settle 25,000 government-assisted refugees by the end of 2016.
Saskatchewan initially committed to receive its per capita share of 850 people but welcomed hundreds more.
"We extend our deepest gratitude and appreciation to the many settlement groups, communities, organizations and the tireless volunteers who support all resettlement efforts," Wall said. "From the start, our government has made it clear it is important to ensure that these refugees are able to access the services and help they need."
A significant number of Saskatchewan's newcomers are children, with 534 enrolled in Saskatchewan schools this fall. The Ministry of Education provided $5.4 million to school divisions this year specifically to support Syrian students, but it is estimated that there will be additional costs to support these students with literacy and language work.