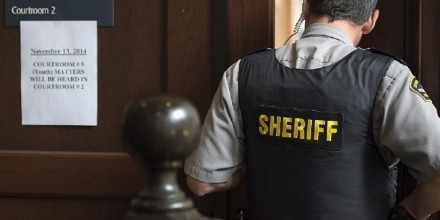 14 Deputy Sheriff positions have been cut across the province.
The union representing deputy sheriffs in Saskatchewan says the work to be contracted out to commissionaires will not deliver the same level of service as the sheriffs.
The commissionaires will not be be armed.
Justice Minister Gord Wyant says the government is looking to hire from a security company in order to best utilize tax dollars.
Wyant says he feels confident commissionaires will be able to provide similar protection.
The jobs were eliminated in Saskatoon, Regina, Prince Albert, North Battleford and Weyburn.
The Deputy Sheriffs would screen people entering a courthouse, escort prisoners inside a courthouse, provide courtroom security and transport prisoners by vehicle.