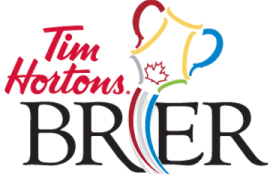 It is now official.
The Tim Hortons Brier is returning to the Queen City for a 3rd time in 2018 with the last time being in 2006 when Quebec's Jean-Michel Menard captured the title.
Curlsask Executive Director Ashley Howard is thrilled to see the premier curling event in Canada come back to Saskatchewan.
She says it is one of the biggest sporting events in Canada and rivals the Grey Cup when it comes to the party and the atmosphere created as it will be a chance for Canadian curling fans to get together and party from March 3-11.
Curling Canada's Al Cameron believes the 2018 event could be the best-ever Brier as not only will curling fans see the top men's curling teams in Canada competing for the prize.
The event will also be the first time that a 16 team field makes up the competition with a two pool, two-stage round robin format used which is similar to what is being done now with the Canadian Juniors and Mixed championships.
Cameron adds the fact the Brier Patch which will once again be in the Eventplex along with the soon-to-be ready International Trade Centre – which will also be used for entertainment purposes – could make the 2018 Brier one curling fans will remember for a long time.
Those hoping to snag some tickets will have to wait for a while, as sales will not begin until early 2017.