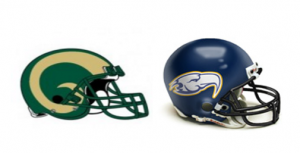 The Regina Rams are hoping to play at Mosaic Stadium for the next three weeks.
After finishing first in Canada West at 6-2, the playoffs have arrived with the defending Vanier Cup champion UBC Thunderbirds coming to town for a semi-final contest on Saturday afternoon.
A Rams win and they will host the Hardy Cup against the winner of the other semi-final between Calgary and Saskatchewan with the Hardy Cup winner hosting the best team from Atlantic Canada in the Mitchell Bowl—a national semi-final.
The Rams beat UBC 20-10 in Vancouver, and 35-33 in Regina during the regular season.
Game time is 3:30 and we will have it for you on our online channel at www.sportscage.ca starting with the pre-game show at 3:15 followed by the play-by-play with Mitchell Blair, Marco Ricci and Gary Bresch.