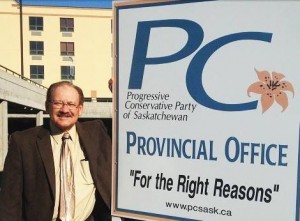 Progressive Conservative Party of Saskatchewan leader Rick Swenson announced he will be stepping down as head of the Party on Saturday.
The long-time leader made the announcement at the PC Party's annual general meeting and convention in Moose Jaw.
Swenson told 620 CKRM Source News he's proud of his more-than-a-decade-long run with the Party and said that it's time to pass along the torch to someone new.
"I believe there will be wholesale change in the political matrix in Saskatchewan, and the PC Party has to be a part of that," said Swenson. "We need to be prepared to speak to a new generation."
Swenson said he still plans to stand behind the PC Party, but in a different role.
He hinted that his experiences campaigning/fundraising for the Party in the past will come full circle in the coming months.
Swenson said he will remain leader until a new one is elected 12-18 months prior to the next provincial election in 2020.