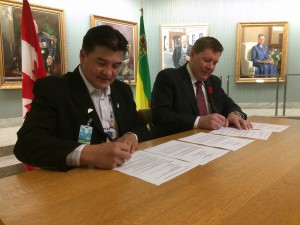 The Federation of Sovereign Indigenous Nations and the Ministry of Environment signed an agreement for guidelines on entering First Nations reserves.
The agreement makes sure conservation officers have a point person to contact before entering and conducting law enforcement duties on reserves.
FSIN Chief Bobby Cameron says the guidelines were already in place, but the agreement solidifies a mutual respect between the agencies.
If a point person is unavailable and the entry is time sensitive and necessary, the point person would be notified as soon as possible.