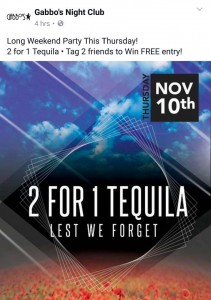 A planned Remembrance Day promotion by a Regina nightclub is not sitting well with many people.
Gabbo's Night Club put out a post on their Facebook and Twitter accounts calling for a 2 for 1 Tequila night on Thursday with the "lest we forget" caption underneath.
Many voiced their disapproval on both Facebook and Twitter about the promotion with some saying this is as disrespectful as it gets.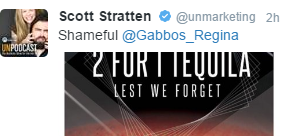 While the offending post remained up late Monday night despite the criticism, the tweet was taken down and the Facebook account has been disabled.
Calls to the nightclub to get their side of the story have not been returned.