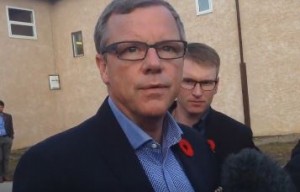 Premier Brad Wall visited La Ronge, SK on Wednesday to meet with community leaders in response to the recent string of suicides in the north.
Since the middle of October, six girls ages 10-14 have taken their own lives.
The premier calls the people dealing with the tragedies "local heroes", and thanked them for their hard work and dedication to youth in the community.
Wall met with FSIN Chief Bobby Cameron, local Chief Cook-Searson and other community leaders to discuss both short and long term solutions to the issue.
"The solution here is family and community. We have to ask the question, what supports do families need here?" said Wall.
The group also talked about the possibility of a new health and wellness centre, or a mental health and addictions centre in the north.
Wall says the government will continue to work with local leaders to determine what other supports need to be put in place and what the funding for those supports looks like.
Related: