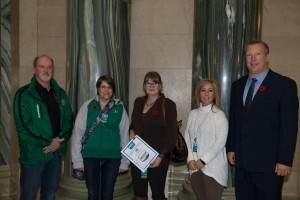 Members of the Chris Knox Foundation were on hand at the Saskatchewan Legislative Building on Thursday morning, as former Saskatchewan Roughrider and MLA Gene Makowsky presented Grey Cup tickets to two women battling cancer.
Harvard Broadcasting is a proud sponsor of the Foundation, and Harvard's Trish Bezberotko says it is a charity they are more than happy to be involved with.
Chris Knox was a Rider fan whose dream was to watch the Riders play in the 2007 Grey Cup despite the fact he had cancer.
The charity helps children and young adults to attend sporting, fine arts, and cultural events during treatment, giving them a much-deserved reprieve and creating some happy memories with their families.