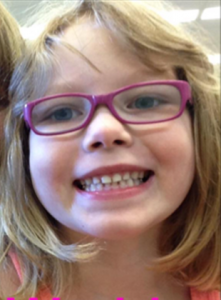 Nipawin RCMP have activated an Amber Alert for 7 year old Nia Eastman.
Nia Eastman is described as being 3 foot 11. weighing 50 pounds
She has blonde, shoulder-length hair, and was  last seen wearing pink eye glasses, a purple long-sleeved shirt with butterflies, a pink skirt and purple leggings with silver trim at the bottom.
Police believe the child was taken by her father, 45 year old Adam Jay Eastman.
He is described as 5 foot 10, weighing 140 pounds. He has short brown hair and wears glasses.
Nia was to be returned home to her mother by 7:00 pm on Wednesday night.  A vehicle believed to be operated by Adam Eastman was located on a rural property east of Smeaton near Snowden at approximately 10:00 pm. Neither Adam nor Nia were located with the vehicle. RCMP is on scene and searching the vicinity. It is unknown if Adam Eastman has access to a second vehicle. Direction of travel and current whereabouts are unknown.
Just after 8 o'clock, Saskatchewan's Highway Hotline reported Highway 55 between Choiceland and Smeaton is closed as RCMP search the area.
Anyone with information is asked to call 1-877-SOAMBER or 1-877-762-6237 or e-mail  fdiv_amber_alert@rcmp-grc.gc.ca