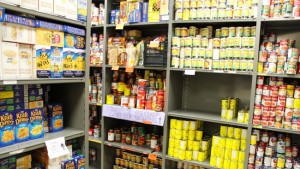 More and more people in Saskatchewan are relying on a food bank to help them.
A comprehensive report on hunger and food bank use in Canada called "Hunger Count 2016" has been released and it shows Saskatchewan has had a tough year.
Regina Food Bank CEO Steve Compton says the numbers show many more people in Saskatchewan have had to rely on a food bank from the year previous with an increase of over 17 percent or 31-thousand people.
Compton attributes the numbers to the fact the state of the economic storm we are currently in has caught up as we are now starting to see the full impact of the downturn in the oil and gas sector.
Every province had an increase in those using a food bank except for Ontario and Manitoba.
Nova Scotia led the way with an increase of just under 21 percent followed by Alberta and then Saskatchewan.
Compton feels both levels of government can help ease the crunch.
He says the federal government can institute a National Poverty Reduction Strategy by October of 2017, while the provincial government can increase the minimum wage so that those in need have more income at their disposal.