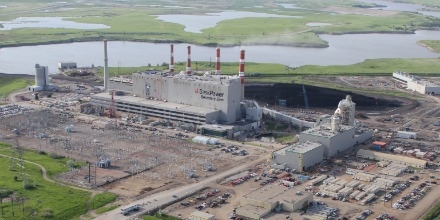 Federal Environment Minister Catherine McKenna is announcing a plan to phase out the use of coal-fired electricity by 2030.
She says the goal is to make sure 90-percent of Canada's electricity comes from sustainable sources by that time up from 80-percent today.
The announcement is one of a series of measures the federal government is rolling out in advance of a first-ministers meeting with the provinces in early December to determine a broader climate-change plan.
McKenna says the coal timetable includes a new agreement with Nova Scotia to give that province the flexibility it needs to shift directly from fossil fuels to clean sources of electricity.
She says she is working on forging a flexible agreement with Saskatchewan.
Premier Brad Wall is speaking out against the announcement and released a statement on Monday morning:
At the First Ministers' meeting in Vancouver in March, the Prime Minister agreed to work together with the provinces to develop a pan-Canadian approach to climate change that would be discussed and finalized at the next First Ministers' meeting in the fall, which has now been set for early December.
The federal government has now violated that commitment for a second time by making its second major policy announcement in advance of the First Ministers' meeting in December – the announcement last month of a national carbon tax and now today's announcement of an accelerated phase out of coal-fired electrical generation.
These actions have severely undermined the December meeting and have exposed the Prime Minister's disingenuous commitment to federal-provincial collaboration.
Saskatchewan will be evaluating both the environmental and the economic impact on our province of today's federal government announcement.
We will continue to strongly oppose any attempt to impose a federal carbon tax on Saskatchewan and will not support any agreement at the December meeting unless the proposed federal carbon tax is withdrawn.
(With files from The Canadian Press)