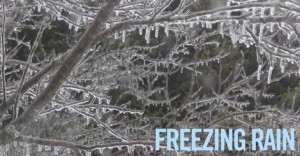 Travelling on a Saskatchewan highway Monday could be dicey in some areas as a band of freezing rain is moving through.
A
freezing rain warning
had been in effect for Regina this morning, but that has now been lifted, however one remains for many other areas of the province including Moose Jaw, Saskatoon, Prince Albert and Kamsack.
The weather is believed to have played a factor in an accident that has completely shut down traffic in both directions on Highway 11 just south of Davidson as three semis have jack-knifed blocking traffic going both ways for an undetermined amount of time.