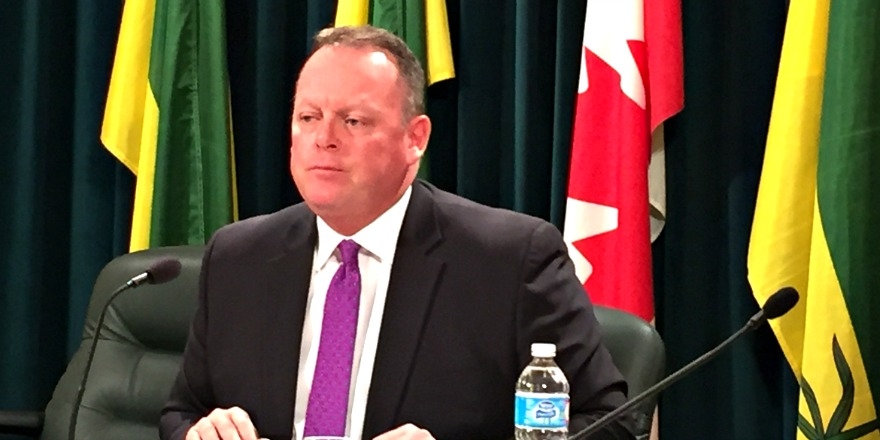 Saskatchewan's deficit has climbed to just above $1-billion due to falling tax revenue.
During the summer budget, Finance Minister Kevin Doherty forecast the deficit to be $434-million.
However, the province's mid-year financial report shows lower revenue from non-renewable resources, along with higher-than-predicted spending, has increased that figure to just over $1-billion.
The province's tax revenue saw a loss of $400-million, non-renewable resources saw a $180-million loss and Saskatchewan's potash revenue dropped by $140-million.
The report also shows a repayment of $235.5-million to businesses from the Workers' Compensation Board.
Offset somewhat by higher forecast revenue from federal government transfers and other own-source revenue, total revenue is forecast down $322-million.
The mid-year forecast shows corporate income tax down $81-million, personal income tax down $172-million, Provincial Sales Tax down $128-million and fuel tax down $20-million compared to budget estimates.
Doherty says the province has spent $285.4-million more than expected at budget, on things like health care, social services and high crop insurance claims.
A hiring freeze is in place as government looks to find money and a number of cuts or postponed spending is taking place. Doherty says they will also review the possibility of raising taxes.
"Whether it be tax increases, whether it be the tax exemption side, whether it be new types of taxes," said Doherty.
The government hopes to save $217-million of restraint measures and savings this year to be undertaken across government lines – this includes Crown corporations.
"Public sector salary expense across government is now about $6.3-billion a year, so if we are going to control government spending, we have to control labour costs," Doherty said.
Government revenue is down and utilization of government services is up-that's why we have a deficit," Doherty said. "Overall, non-renewable resource revenue is down more than $1.2-billion from what it was two years ago."
The official opposition are seriously concerned over the ballooning deficit.
NDP finance critic Cathy Sproule says the government can't blame the increased deficit on revenue loss and non-renewable resources.
"That was something that they should have foreseen before now," said Sproule. "I think there's some serious problems with the way they're projecting."