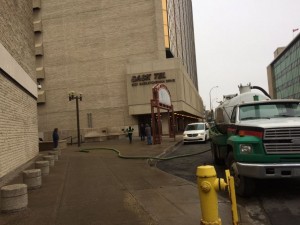 About a dozen stores had to be closed at the Cornwall Centre Wednesday afternoon after wastewater flooding.
General manager Doug Kozak says the flooding was caused by back-up in a City sewer line running along Saskatchewan Drive.
He says they've brought in restoration crews to help with clean up to re-open the stores.
"Our staff are working furiously to clean up. We've called in restoration companies to help with that clean up," said Kozak. "Obviously there was an odour that has released quite a bit, since then we've been running in fresh air into the shopping centre through our heating and ventilation systems."
Kozak says the stores will open on a case-by-case basis as they are cleaned up.