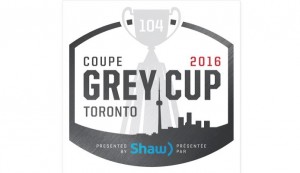 WHO: Calgary vs Ottawa
WHERE: BMO Field, Toronto
WHEN: 5:30 pm ST, Sunday, Nov. 27/2016
BROADCAST: TSN, 620 CKRM Rider Network
FORECAST: Cloudy, 5 degrees Celsius
GAME NOTES:
Recent Grey Cups featuring both first place teams: 2016, 2015, 2014, 2011, 2009, 2008, 2006, 2003, 2002 and 1998. The current run of three straight years with BOTH Division first place clubs is the longest streak since 1964 (both first place clubs reached the Grey Cup from 1961 through 1964).
Only three other CFL clubs have ever reached 10 Grey Cup wins in franchise history (Toronto, Edmonton & Winnipeg), Ottawa can become the 10th team in Grey Cup history to reach double-figures with a win over Calgary.
Droughts: Ottawa is tied for the longest current drought since their last Grey Cup victory – 26 seasons since 1976 (1977-1996, 2002-05, 2014-15). Winnipeg has also gone 26 seasons without a GC win (1991-2016). Hamilton is next with 17 seasons (1999).
In the Post WW II era, only two Canadian QBs have ever scored a Grey Cup touchdown: Russ Jackson (Ottawa 1968) and Don Getty (Edmonton 1956 with 2 TDs). Calgary's Andrew Buckley scored 8 TDs in 2016 for Calgary, the most in any regular season by a Canadian QB since Russ Jackson had 8 in 1962. Buckley has an opportunity in 2016 to join Jackson and Getty as the only Canadian QBs to score a Grey Cup touchdown in the last 71 years (1945-2015). Thanks: CFL Staff (J.Rubinoff).
The last three Canadian players to score a Grey Cup rushing TD:

Andrew Harris 2011 (BC)
Éric Lapointe 2005 (MTL)
Duane Forde 1999 (CGY)

21: Number of players that played in the 2015 Grey Cup for Ottawa that are on their 46-man declared roster for Grey Cup 2016. (54% turnover in just one year). They have 23 players on their 46-man roster with Grey Cup experience.
19: Number of players that played in the 2014 Grey Cup for Calgary that are on their 46-man declared roster for Grey Cup 2016. (59% turnover over two years).
23: No of players who have been on previous Grey Cup winning teams (Calgary 20, Ottawa 3).
Since 1952, the record of teams making fewer Turnovers in the Grey Cup: 44-6. Only 6 of those 50 teams with less T/Os lost.
The only Turnover-free team to NOT win the Grey Cup: Hamilton in 2014.
8: Number of head coaches since 1945 who lost their first Grey Cup and came back to win the next year (Marc Trestman 2008, Tom Higgins 2002, Wally Buono 1991, Bob O'Billovich 1982, Hugh Campbell 1977, Jim Duncan 1970, Dave Skrien 1963, Bud Grant 1957).
2: Coaches' Challenges in the 2015 Grey Cup (Edmonton challenged for DPI and won; Ottawa challenged for NO DPI and did not win).
Henry Burris can become the oldest QB to lead his team to a Grey Cup win – Damon Allen is the only 40+ QB to do this (2004: age 41 years, 116 days). If Ottawa wins this Sunday, Burris would be 41 years and 177 days old (Born: June 4, 1975).
Since 1995, only three clubs have built at least a 10-plus point lead in the Grey Cup before losing: Ottawa +13 in 2015, Saskatchewan +16 in 2009, Montreal +10 in 2008.
15-plus win teams that went on to win the Grey Cup: 5 of 9 before Calgary in 2016 (Teams that did not win: CGY 93-95, EDM 1989).
Calgary has had two previous perfect home seasons of 9-0 and a third this year. They were unable to win the Grey Cup in the first two.
Career 30+ yard completions in Grey Cup games: Henry Burris 2, Bo Levi Mitchell 1.
Career Grey Cup FG attempts missed by Rene Paredes: 0. Paredes went 6-for-6 over the 2012 and 2014 games.
Number of punts trapping opponents inside the 10-yard line: Rob Maver one in 2012 (53-yard punt, Toronto at the 2-yard line).
Number of players that started all 18 games in 2016: Ottawa 2, Calgary 8. With 17 or more starts: Ottawa 6, Calgary 12.
Andre Proulx will be working his fourth game on the field as referee in the 2016 Grey Cup.
Umpire Ben Major and Line Judge Marty Carreau will be working their second consecutive Grey Cup games.
The last 11 Grey Cups have all been won by the team who won the Time of Possession battle. The last team to have under 30:00 of Possession time and win was Toronto in 2004 (29:17). Winning teams since 2005 have averaged 33:26 of TOP.
46-MAN ROSTERS Avg — CFL — Career Career
GC TEAM Age Yrs Avg Games Avg Starts
Calgary 27.6 186 4.04 2,466 53.6 1,385
Ottawa 27.3 161 3.50 2,049 44.5 1,183