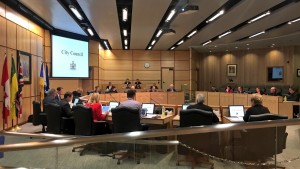 The new Regina city council met for their first full-length meeting Monday night.
Even though it was short and sweet, the agenda covered the basics, along with a few extras.
The meeting began with approval of a new traffic study for the intersection of University Park Drive and Arcola Avenue.
While traffic flow around the intersection has been evaluated in the past, in regards to signal timing and pedestrian movement, it was confirmed that there has been no significant traffic improvements.
The functional study the city has planned for next year will further explore new design options, which they hope will address the traffic and safety concerns in the area.
Council also approved a tentative agreement with their union, CUPE Local 7. Some updates to their agreement included a 1.9 per cent general wage increase per year (which — over the next few years — the union expects will cost $1,906,362), paid sick leave (for the first sick day) for casual employees and a new discrimination article.
They also set Feb. 13, 2017 as the date for the 2017 budget meeting, and June 2017 as the time for the highly-anticipated Transportation Master Plan to be released.
Mayor Michael Fougere said he's pleased with how the meeting went and how council is getting along.
"(Council wants) to get work done," said Fougere. "It's good we have returning councillors — the veterans — who understand the system more than the new ones, who are learning the system."
Fougere said the new councillors are already getting comfortable.
"There's lots of energy, lots of ideas," explained Fougere. "(The new councilors) are also anxious and want to make a contribution — you can see that."
Council briefly approved next year's council meeting dates and the 2017 elected official committee appointments as well.
While items were passed, a new motion was also brought to the table.
Ward 3 Councillor Andrew Stevens put forward the motion to revitalize the park located at the site of the former Victoria Campus School, at 1915 Retallack Street.
Stevens said the hope is to redesign the space with a splash pad and a skate park — something he feels the neighbourhood would benefit from.
"It's now a gravel field; there was an old school that was torn down," explained Stevens. "It's really a waste of space, and that was the consensus."
Before being sworn into his position as councillor, Stevens went door knocking in his ward and discovered this park revitalization was a hot topic.
"The consensus was that something has to be done with (the area)," said Stevens. "People wanted to see themselves looking out over their front porch to actually see a park…whether they had kids or not."
Stevens says a feasibility study is underway to determine the need for the space and how much the revitalization will cost — that discussion will take off next month.
Regina city council meets again Dec. 19.