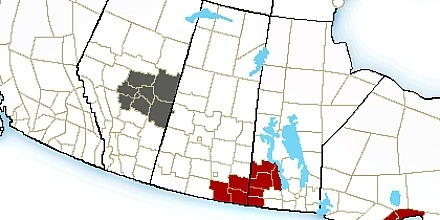 Snowfall warnings in southeast Saskatchewan continue Tuesday morning as Environment Canada says this stormy weather will remain for the day.
Justin Hobson with the  weather office says a low pressure system from eastern North Dakota continues to persist – in fact, it's stalled over the southeast.
Hobson says more snow is expected throughout the day as warmer temperatures mix with cold conditions, creating the snow coverage on highways, streets and sidewalks.
Regina can expect 2-4 cm more of snow, while areas in southeastern Saskatchewan are forecast to receive 5-10 cm more.
Total accumulations haven't been tallied yet, but Hobson says amounts varies depending on where you are in Saskatchewan.
Add in the windchill factor and Hobson says visibility will be greatly reduced on highways, streets and intersections will be icy and sidewalks may be difficult to navigate.
Hobson says the forecast is calling for much-improved conditions on Wednesday, with the possibility of sunshine for Thursday, into the weekend.
In the meantime, Regina road crews are starting to work on snow-covered intersections and sidewalks.
Highway Hotline says visibility will be reduced throughout the day and motorists are advised to check their routes and delay unnecessary travel.