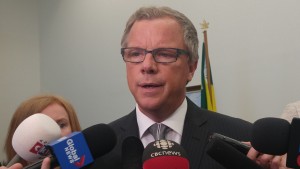 Saskatchewan Premier Brad Wall is creating a government committee to look at rising property crime rates and police presence in rural areas.
The committee will also focus on an increase in guns, gang activity and drugs such as fentanyl in urban centres.
Wall says people around the province have been voicing concern and he's asked the new committee to look at causes and make recommendations on what can be done do to reduce crime.
The committee is to consult with municipalities, police agencies and other organizations to determine the major issues and what can be done to better address them.
It will make recommendations to the justice minister, cabinet and government caucus.
There is no immediate word on when the six Saskatchewan Party MLAs on the committee are to report back.
(The Canadian Press)