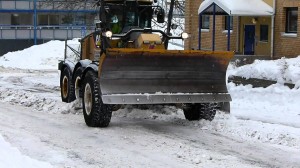 The city of Regina has its full fleet of snow cleaning equipment on the road Tuesday as they are trying to keep the streets safe after the snow received Monday night.
Regina police say from midnight  until 10 AM there were 15 fender-benders they had to deal with as people deal with the first significant snowfall we have seen in a while.
As is always the case, Category 1 and 2 streets are the first ones to be worked on, but the city's Chris Warren says equipment is out across the city doing what has to be done with sanders out across the city spreading material out in necessary locations.
The weather office says as of 7 AM Tuesday  morning, Regina had seen 4 centimeters of snow come down.