Saskatchewan Roughriders running back Joe McKnight has been killed in Louisiana.
A New Orleans newspaper says McKnight was shot this afternoon after an argument at an intersection.
A witness tells the paper she was leaving a store when she saw a man at the intersection yelling at another man who was trying to apologize. The man who was yelling shot the other man multiple times and at one time according to the witness stood over top of McKnight before firing his weapon.
McKnight played high school football in New Orleans and had joined the Riders this season after playing in Edmonton, and the NFL's New York Jets.
The reaction to the shooting amongst the football community did not take long.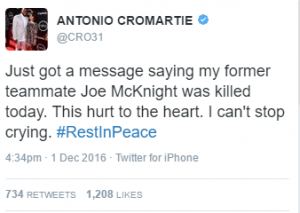 The CFL and the Saskatchewan Roughriders both released statements shortly after the news broke:
"On behalf of our Board of Governors and the entire CFL family, I'd like to convey my deepest sympathies to all those close to Joe McKnight, especially his loved ones and friends. "Commissioner Jeffrey Orridge stated. "Our thoughts and prayers are also with the Saskatchewan Roughriders' organization at this difficult time.""We are shocked to hear the news of Joe's sudden passing," stated Riders Vice President of Football Operations, General Manager and Head Coach, Chris Jones. "We send our deepest sympathies to Joe's family, friends, and all those impacted by this tragedy."
"We are saddened to hear of the tragic loss of Joe McKnight," said Riders President & CEO, Craig Reynolds. "Losing a member of our Rider family this way is an unthinkable occurrence. Our thoughts and prayers are with Joe's family, teammates and coaches."
A 54 year man was taken into custody at the scene, but at this time Ronald Gasser has not been charged.
Joe McKnight was 28 years old.