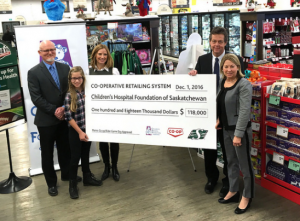 Thanks to Rider Nation buying Co-op Roughriders approved 'Game Day' items, like sports drinks and potato chips, the Children's Hospital Foundation is getting a $118,000 cheque.
Over $37,000 was donated directly by customers at checkout stands at Co-op stores throughout Saskatchewan, with the remainder being the result of proceeds from the 'Game Day' product line.
Co-op has donated more than $2.3 million to the CHFS since 2010, which includes a $1.7 million commitment in 2013 and $450,000 from the sale of 'Game Day-approved' products.
This year, 'Game Day-approved' partnerships, including: the Riders, Calgary Stampeders, Edmonton Eskimos and Winnipeg Blue Bombers, raised a combined $207,000 for local children's hospital foundations across Western Canada,