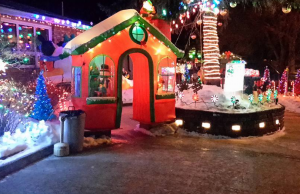 The lights are lit, the inflatables inflated — now, all the Candy Cane Lane Light Festival needs are some visitors.
The fourth annual light festival features a driving sparkle tour around the Normanview neighbourhood in Regina, along with a main attraction on Champ Crescent with both front and back yard displays.
This year, they're taking admission to get into to the main site, which will also have cookies and hot beverages there to purchase — with all proceeds going to Souls Harbour Rescue Mission, Regina Food Bank and the Normanview Residents Group grant fund.
The festival also has a couple raffles going on; one for a signed George Reed jersey — which he will be on site to give away at the end of the month — and a Christmas piggy bank.
Candy Cane Lane is open every night, from Dec. 1 until Christmas Eve from 6:30 to 9 p.m.
For more details, visit the Normanview Residents Group website.