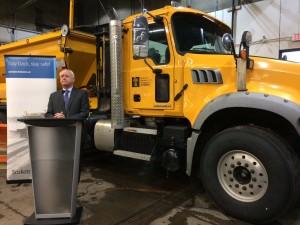 The provincial government is asking residents to practice caution while driving Saskatchewan highways this winter.
Highways and Infrastructure Minister David Marit asks people to drive slow and stay back while snow plows are operating on the highway.
Garrett Roberts is a snow plow operator and says passing a plow on the highway is illegal and extremely dangerous.
"There's never a good enough reason to pass. I know everybody is busy," said Roberts. "I can't stress enough — it is not safe to pass when we are plowing snow."
"They do create a blizzard behind them and if you're trying to get by it odds are you're not going to see the oncoming traffic," said Marit.
Roberts says the plows will pull over every 10 kilometres or so, and asks people to be patient.
Last year, blue and amber lights were installed on the plows to warn drivers of upcoming snow removal.
People can monitor road conditions using the Highway Hotline, which features interactive maps for users. The information is also found on the government's Facebook and Twitter pages.