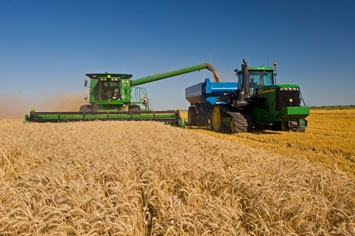 Statistics Canada's latest survey says farmers in Saskatchewan had higher production for most crops.
Canola production set a new record of 9.8 million tonnes, with yields up 8.7 per-cent to average 41.2 bushels per acre.
Lentil production also reached a new record in Saskatchewan at 2.7 million tonnes, up 16 per cent from last year.   However, average yields were down 16 per-cent to 1,167 pounds per acre.
The lentil area harvested was a record 5.2 million acres.
The Statistics Canada survey was conducted between October 21 and November 13 when farmers in several parts of Saskatchewan and Alberta were still combining. Some analysts indicate this could impact accuracy, but Statistics Canada says farmers in the affected areas were asked to provide their best estimates of crop production.
Statistics Canada says total wheat production is expected to increase 15 percent to 31.7 million tonnes. It marks the second time in five years that national wheat production has exceeded 30 million tonnes.
Saskatchewan farmers produced 14.5 million tonnes of wheat, an increase of 11.5 percent over last year. Harvested area was lower, but yields rose a substantial 27 per cent to average 47.3 bushels an acre.
Here are some of the production estimates for other crops:
Barley—3.4 million tonnes Saskatchewan (up 18 per cent.)    8.8 million tonnes Canada (up 7 per cent)
Oats—1.7 million tonnes Saskatchewan (down 14 per cent)   3.1 million tonnes Canada (down 8 per cent)
Peas—2.3 million tonnes Saskatchewan (up 32 per cent)      4.83 million tonnes Canada (up 51 per cent)
Flax-–473,700 tonnes Saskatchewan (down 40 per cent)
Soybean—202,500 tonnes Saskatchewan (up 30 per cent)  6.5 million tonnes Canada (up 1.4 per cent)
Mustard—Mustard 162,300 tonnes Saskatchewan (up 77 per cent)  234,000 tonnes Canada (up 89 per cent)