20 Regina children are going to make the holidays this year a little more special for themselves and their families.
Wednesday at the Cornwall Centre the Regina Police Service teamed up with The Regina intersectoral Partnership to take kids Christmas shopping for the second annual Cop Shop.
Each child received a two-hundred dollar gift card donated by the Cornwall Centre to spend how they pleased.
For many that meant family and friends first.
They also got the opportunity to eat lunch with members of the Regina Police Service and tell Santa what was on their wish list this year.
Chief Evan Bray says they were once again looking forward to the days events.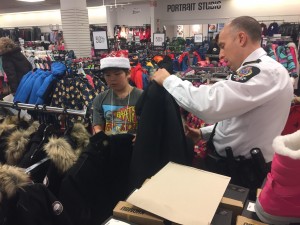 "Cop Shop is a very exciting thing for us, it gives us the opportunity to get out and meet new friends and make a difference during the holiday season." He added that every child with them was a leader in their schools and had made many smart life choices, and that this was a way to reward them for their hard work and dedication.
Chief Bray and ten year old Colton had an hour and a half to make all their stops which included Sears for some new boots and EB Games for some of the latest video games.
Bray said teaming up with TRiP and the Cornwall Centre has helped to make Cop Shop a very successful program.