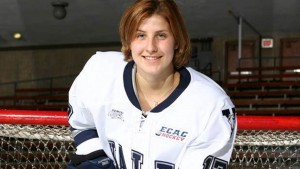 Notre Dame College is hosting the prestigious "Mandi Schwartz Memorial" Female Hockey Tournament this weekend.
The tournament, which started Thursday, is playing host to 16 teams from across Western Canada with 40 games being played from now until Sunday in both Wilcox and Milestone.
The event is considered as one of the most highly scouted female tournaments in Western Canada with around 40 NCAA, CIS and ACAC schools sending representatives to check out the action and players.
Mandi Schwartz attended and played her high school hockey at Notre Dame with the Hounds and graduated in 2006. Mandi then went on to play in the NCAA for the Yale Bulldogs at Yale University. In December of 2008, Mandi was diagnosed with cancer (acute myeloid leukemia). She received treatment and returned to Yale for the spring semester; however, in April of 2010 Mandi learned that the cancer had returned.
She eventually passed away in 2011 at the age of 23.
A ceremonial puck drop will be held Thursday night at 6 PM at the Duncan McNeill Arena with Mandi's parents doing the honour.