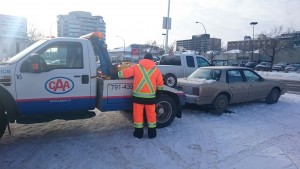 This cold snap we have been going through has meant busy times for tow-truck drivers.
CAA Saskatchewan's Kevin Lane says they have been averaging 500 calls a day province-wide since this recent bout of cold weather started.
Lane says that's not surprising as they expect calls to increase with the peak times being between 6 AM until 9:30, 11:30-130 and then again from 3:30-6:30.
It is CAA's goal to have all service calls answered within a 30-45 minute time frame with those calls being prioritized because of their automated express system which asks people if they are at home or if they are stranded on the highway and in need of immediate help.