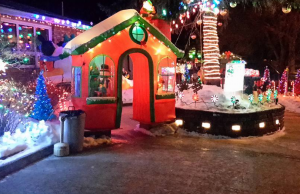 After being closed for the past number of nights, the Normanview Residents Group says "Candy Cane Lane" will be operating Wednesday night.
While the cold weather expected over the next few days still exceeds the group's operating guideline limit of -25C, a rotational schedule for volunteers and a visitor warm up area has been estabished that would prevent exposure for more than 10 minutes.
The premiere winter festival in Regina normally attracts about 15,000 visitors walking through the main site each year. With the closure of 1/3 of the campaign duration due to the cold, it is anticipated the majority of Regina residents and those visitors from other communities in southern Saskatchewan will plan to take part in the family tradition next week when the weather is expected to improve.
The main site is on Champ Crescent which has mandatory one way traffic, entering from the east access from 7th Avenue North.
Normanview Residents Group President Brian Runge says at this time there is no plan to extend the festival past Christmas Eve, but there is a possibility of running until the 30th if the weather co-operates and enough volunteers are found.