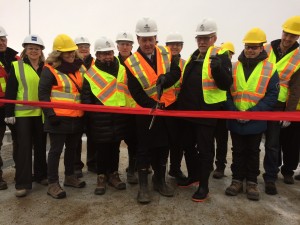 The City of Regina's Wastewater Treatment Plant is now substantially complete.
The project started in June 2014 and was finished on time and under budget.
Mayor Michael Fougere says by using a P3 building method, the City saved $6 million and is guaranteed reliable service over the next 30 years.
"We have a new plant that's state-of-the-art, that's going to last for 30 years, that will save us money but will also protect the environment," said Fougere.
The plant is now in its final stages of commissioning and is undergoing performance testing.
"We've got to do a little bit of landscaping and those type of things, so the plant is capable to meet all the requirements and over the next three months we've got some minor things to clean up," said Stephen Stanley, Senior Vice President of Commercial Services at EPCOR.