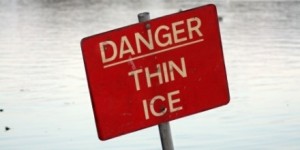 Regina's Fire and Protective Services are reminding residents to keep off the ice this winter, since the number of thin ice emergency calls are up this year from last.
Deputy Chief Layne Jackson said the safest bet is to avoid ice on all bodies of water as none of it is safe.
As an alternative, he encourages people to use the city's outdoor, land-based rinks, since they're the safest bet this time of year.
Jackson said even pets can be too heavy to walk on ice at times. People are being told to avoid trying to be a hero if an animal falls through the ice, as they can often add to the emergency.
Anyone who sees a person or an animal in distress, due to thin ice, is urged to call 911.