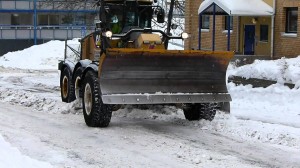 The city of Regina is continuing to work to clear snow from streets, and sand icy intersections and roadways.
Regina received about six centimeters of snow last night and early this morning, which is enough for crews to clear category one and two roads.
Immediately crews were out clearing major streets and problematic areas, but with the snowfall tapering off they will now switch to their systematic routine, said Pat Wilson with the city of Regina.
"With the snow tapering off, we'll be switching to our systematic mode Friday evening, and will be plowing and sanding through categories based on our winter maintenance program. Clearing category one streets within 24 hours and category twos within 36, and so on."
Category one streets include major arterial areas, and hospital roads, such as Albert and Broad Street, Victoria Avenue, Lewvan Drive and ring Road.
Category two roads are considered minor arterial areas, such as Elphinstone Street, Broadway Avenue and Regina Avenue.
It takes a snowfall of ten centimeters or greater for the city to work on category three areas.
Wilson said they appreciate people's patience and remind everyone to stay clear of plows working to clear and sand roads.
"We appreciate the space to work, and it's also for everybody's safety. It's for the good of your vehicle as well, it's best for you, your vehicle and everybody's safety to give them some space."
The city is asking everyone to stay 15 meters or three and a half car lengths back of plows, and not to pass them while they're working.
People are also being asked to park in their driveway so crews can work easier and more efficiently.
Friday afternoon there were six graders out, nine plow trucks with sand and one sidewalk plowing unit that is working on sidewalks the city is responsible for.