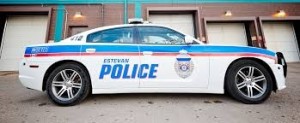 A former police officer in Estevan has been found guilty of assault.
In a decision announced earlier this month, 30 year old Mohammed Khan was found guilty of the charge after an incident in May of 2015 at a restaurant in the city.
Police had received a complaint about some suspicious activity outside the restaurant and when Khan arrived, the group scattered.
One of the men was chased down by Khan and told to stop. He was handcuffed and then shoved face down into the pavement multiple times with Khan saying "That's what you get for running from police" accprding to other officers who witnessed the incident.
Khan, who now lives in Ontario, will be sentenced next month.