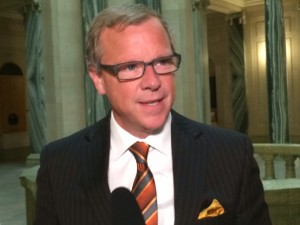 Premier Brad Wall is admitting the drinking and driving incident involving Don McMorris this summer was a catalyst in the province getting tougher with drinking and driving.
In August, McMorris was pulled over east of Regina and charged resulting in him giving up his cabinet post.
In a year-end interview with 620 CKRM, Wall says it was very tough to see what happened to him.
"It was very tough," Wall said. "We are very close friends, we were elected together in 1999 and we have a relationship beyond work.
That incident along with the deaths of a Saskatoon family in January and a Regina man in September at the hands of an impaired driving were factors in the province deciding it had to get tougher with drinking and driving, but it was the McMorris incident that prompted change according to the Premier.
"It got everyone thinking, it got me thinking." Wall admitted. "I will give the NDP credit because they had wanted some of the things we did months ago. The most important part of the answer though is all of those incidents, no matter how tragic led to change."
Wall adds that even though the rules are getting tougher, it is up to us to make sure it happens.
"You can change all the laws, you can run all the commercials, you can have all the safe ride programs ready to go, but it is up to us to take responsibility and stop this."
While passionately discussing that topic, Wall is also re-iterating the federal government's carbon pricing plan is one that will be disastrous for Saskatchewan and while he has turned out to be a lone wolf on the matter, he will continue to fight for what he believes is the best for Saskatchewan.
"It's not right for us at that time so I'm not signing on to it." Wall said. "Being a lone wolf isn't fun, but I don't think it affects the relationship our government has with the federal government. Justin Trudeau and I had a chat before that meeting in Ottawa about how we were agreeing to disagree. You can agree to disagree without being disagreeable, and that has been his approach which I respect.. That will be our approach as well. We will be pointed with our arguments, and so will he which is fair, but we have a good relationship with Ralph Goodale, so I don't think our reluctance on this will bleed over on other topics."
Despite the on-going challenges Saskatchewan has faced with the economy, Wall believes the worst has hit saying there are signs of an uptick albeit slowly.
"It might be a little while before we see things get back to where they were, but the economy is responding." Wall states. "Crescent Point and Raging River (two oil companies) are increasing capital expenditures in Saskatchewan and that for the first time in 2016, there were more oil wells drilled in Saskatchewan than Alberta. I think the mining and agriculture sectors will continue to thrive and while its a slow process, we are turning things around."
Wall also adds being a Riders fan, the team needs to re-sign quarterback Darian Durant because he needs to be one under center when the team starts play at the new Mosaic Stadium.
The complete interview with Wall can be heard on New Year's Day.