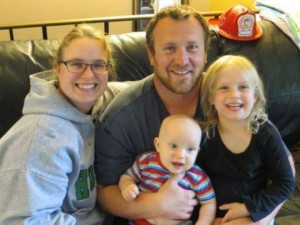 "I don't want to see anybody else have to go through the year that my family, my friends, and Jordan's friends have gone through".
That from Louis Van de Vorst on Tuesday, a year to the day after his son and his family were killed in a drunk driving crash near Saskatoon.
On January 3rd, 2016, Jordan Van de Vorst, his wife, Chanda, and their two children, 5 year old Kamryn and 2 year old Miguire, were heading home early in the morning after visiting with friends. However, their vehicle was struck by a drunk driver at Wanuskewin Road and Highway 11.
Louis remembers a police officer arriving at his front door at 2:50 a.m., telling him that Jordan and Chanda died at the scene, and that Kamryn and Miguire had been taken to the pediatric intensive care unit. By the time they got to hospital, the children had fallen unconscious. They would die a short time later.
Catherine McKay, who was found to have a blood-alcohol content 3 times the legal limit, was sentenced to 10 years in jail for impaired driving causing death.
Van de Vorst says he misses the good times he had with Jordan and his family, saying the young family had a lot of great times together, with the children sharing smiles and hugs with their grandparents.
To honour Jordan and his family, Louis will be lighting glow sticks and hanging them on his Christmas tree Tuesday night to raise awareness on the impacts drunk driving can have.
The province brought forth new impaired driving laws on New Year's Day, including three day vehicle seizures for drivers who have a BAC over .04 and zero alcohol tolerance for drivers 21 and under. Louis hopes the changes help deter people from driving drunk, especially youth. But he also calls on others who see someone impaired to make sure they don't choose to get behind the wheel.
SGI's traffic safety focus for January is impaired driving, with officers watching for drivers under the influence of alcohol or drugs.
In 2015, 54 people died and 580 others were injured in impaired driving crashes in Saskatchewan.
(CJWW)