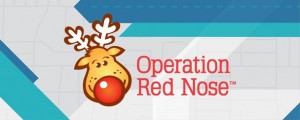 Many decided to use Operation Red Nose in order to get home safely during the holidays season.
Organizers say 1166 people in four Saskatchewan communities, including Regina, used the service to get home safely after a night of drinking.
Organizers add the reason for the big success this year was the fact there were over 600 volunteers who took part in the yearly initiative to stop drinking and driving.
Record usage of a mobile app is also being credited as Operation Red Nose partnered with SGI.  That app can be used year-round as it will connect users to cab companies.
Money raised from Operation Red Nose goes to support local youth, amateur sports, and year-round awareness programs on the dangers of driving while impaired.