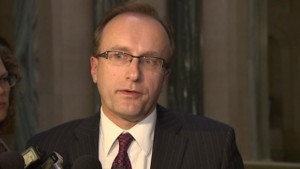 The province is moving from having 12 health regions to one.
Health minister Jim Reiter made the announcement Wednesday morning saying he is accepting all recommendations made by a three member panel designed to look at the current healthcare structure and make appropriate changes.
If all goes well, Reiter anticipates the new single authority will begin work in the fall.
Reiter says patient care is number one and he says if this is done correctly, there will be no impact to patient care
The move is being ridiculed by the provincial NDP.
Health critic Danielle Chartier says this is simply a betrayal and that it has been the complete intention of the Saskatchewan Party to cut deeper into healthcare to make up for their own financial mismanagement.
According to the ministry, early estimates point to a range of savings of 10-to-20 million dollars by 2018-19, based on areas of consolidation.
Reiter says it's a concrete example the ministry can cite indicating moving from 12 boards to a single board will save the costs of annual board governance which is pegged at 700-thousand dollars.