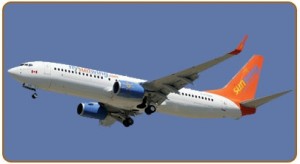 The case of a Sunwing Airlines pilot charged with being impaired in the cockpit has been put over until January 25
37 year old Miroslav Gronych, who is from Slovakia, is accused of having care and control of an aircraft while impaired and with having a blood-alcohol level above .08.
Gronych did not appear in Calgary court Thursday, but the matter was addressed by a lawyer on his behalf.
The Sunwing flight was scheduled to leave Calgary early Saturday with stops in Regina and Winnipeg before continuing on to Cancun, Mexico.
Police allege Gronych, the captain, was found slumped over in his seat and then escorted off the plane.
Gronych was released on $1,000 bail and was ordered to turn in his passport.
He was also prohibited from flying a plane in Canada while on bail.