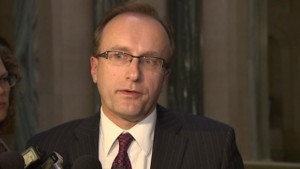 Mental health resources in northern Saskatchewan are going to be a high priority for the provincial government this year.
In a year-end interview, Minister of Health Jim Reiter said helping those in the north will be an ongoing focus in 2017, given the recent events in La Loche and the northern suicides.
However, he noted it will be a give-and-take type of process, as the government tries to trim its $1 billion deficit.
Health makes up 40 per cent of the provincial budget.
Seventy-five per cent of the health budget goes towards salaries and wages, which — according to Reiter — makes it nearly impossible to make any changes without some layoffs.
He says front line care will be the last thing to be touched, if it needs to be at all.
The province is still in talks with the federal government about increasing the federal health transfer; Saskatchewan is seeking a 5.2 per cent jump.
Newfoundland and Labrador, New Brunswick and Nova Scotia have all already signed on for less.
Reitier said, regardless of the deal with the feds, the Saskatchewan government needs to continue to look for more efficiency and innovations in the healthcare system.
(With files from CJWW)