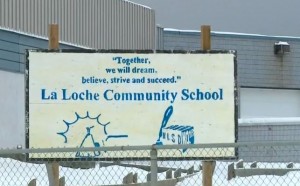 Leaders in northern Saskatchewan spoke to reporters in La Loche on Tuesday afternoon about the steps they are taking to recover after a deadly school shooting almost a year ago.
La Loche Mayor Robert St. Pierre says the day of the shootings "was indeed La Loche's darkest hour," but progress has been made since then.
The principal of the school in La Loche, Greg Hatch says the community has hope, but needs more help.
"We have the three social workers, and we have a friend of the RCMP that comes in and does counselling one week out of every month" said Hatch.
There is still a list of needs for the community of La Loche.
Mayor Robert St. Pierre says the whole community is still trying to bounce back from what was la Loche's darkest hour, and the journey has just begun.
He thanked all those that donated and gave well wishes, and for the response from the provincial and federal agencies.
St. Pierre wants to see more healing opportunities for staff and students.
He listed lack of housing, lack of overall health services, the need for programs like trade education to keep the students in school and the need for a memorial among their challenges, although he says some movement has been made but there is a long road ahead.
On the anniversary of the shooting, January 22nd, the community of La Loche asks for privacy so they can commune for a church service, a community lunch and candle light vigil.
Last January 22nd, a 17-year old gunman killed two teen brothers, 13 year-old Drayden Fontaine and 17 year-old Dayne Fontaine at a home in La Loche, and then went to the school where he continued the deadly shooting.
He killed 35-year-old teacher Adam Wood and 21 year-old aide Marie Janvier and wounded seven others before he was apprehended by the RCMP.
He pleaded guilty to murder and has a sentencing hearing in May.