Darian Durant has said thanks and goodbye.
"11 years ago when I came up to Saskatchewan, I never could have imagined the love and support I've felt from the Rider fans across the world! Although I wanted to stay, everyone's time comes and this is mine," wrote Durant Friday morning in his blog.
This after the Saskatchewan Roughriders traded the CFL playing rights of Durant to the Montreal Alouettes in exchange for a fourth round selection in the 2017 CFL Draft and a conditional 2nd round selection in the 2018 CFL Draft.
During a news conference Friday morning, Saskatchewan Roughriders Vice President of Football Operations, General Manager, and Head Coach Chris Jones said he didn't know how Darian Durant was reacting to this news. Jones says the news was broken to Durant's agent.
Durant said Friday that he will address the trade next week, as he is attending a wedding in n the U.S.
"This is a day to honour him," said Coach Jones.  "It's not like he's not going to do good things in Montreal and that's what I'll tell him."
Jones says it became apparent last week things were not working out with discussions. He says the tone changed and it was becoming clear the two sides were not going to meet.
When asked how he felt about trading away the "face of the franchise" Jones replied, "well, we won five ball games last year, with Darian – so that's reality"
"And for us to continue to go down that road, especially when it was going to be a contract where we felt uncomfortable – it wasn't something I felt comfortable doing," said Jones.
Jones says he did want to see Durant back with the Roughriders adding it around November of last year, the the two sides were getting a bit closer in negotiations.
Coach Jones says filling the Durant's QB position will be an open competition..  He says the Riders have three qualified players who played behind Darian this year.
"All three players were ranked in the top 20 in the U.S. of their draft class," said Jones.  "So we feel very confident one of those three will be able to do something – along with the guys we've talk to and tried out."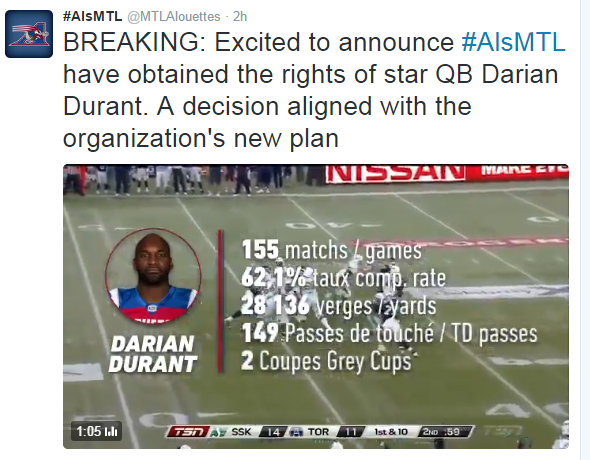 Montreal Alouettes tweet Friday morning about acquiring the rights to Darian Durant
"We are more than pleased to be able to acquire a quarterback of the caliber of Darian Durant and we are confident that we can reach a new agreement with him," Alouettes general manager Kavis Reed said in a press release Friday morning.
""As we stated from the get go, our intention was to acquire a veteran quarterback and we just obtained a player who continues to perform at a high level, which will make him the ideal role model for our young quarterbacks."
Durant spent the previous 11 seasons with the Green and White after originally joining the team ahead of the 2006 season.
Through 157 career regular season games, the University of North Carolina product sits second among franchise quarterbacks with 3,519 attempts, 2,186 completions, and 28,136 yards while sitting third with 149 passing touchdowns.
The 34-year-old carries a 58-54-1 record in 113 career regular season starts. He was named a West Division All-Star in 2009 and 2013 and is a two-time Grey Cup champion winning in 2007 and 2013.
A number of reports are saying Durant has reached an agreement to a multi-year deal with Montreal, though nothing has been officially released.